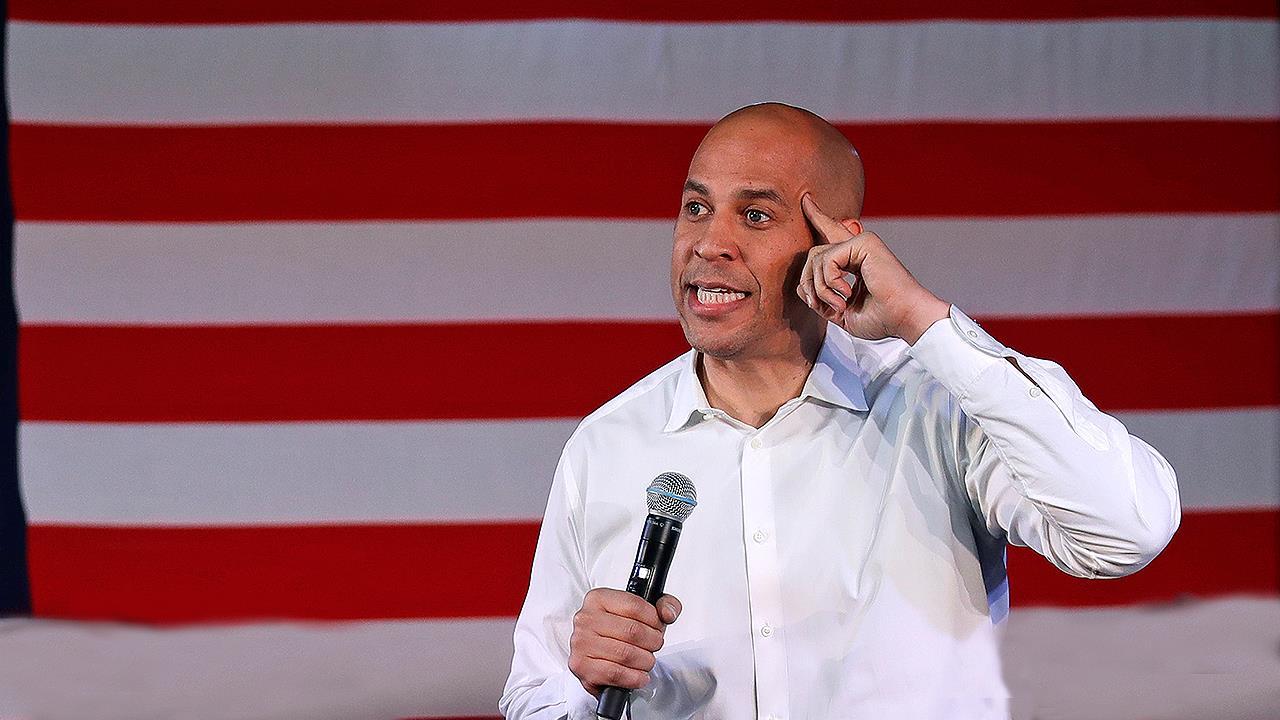 Democratic presidential candidate Cory Booker, campaigning in New Hampshire on Monday, said it's a "lie" for critics to say the Green New Deal is too expensive to implement.
GREEN NEW DEAL, 'MEDICARE-FOR-ALL' DRAW FRESH SCRUTINY FROM OTHER 2020 DEMS
"This is the lie that's going on right now," Booker told Fox News in Nashua, N.H., as he campaigned in the first-in-the-nation primary state.
The New Jersey senator was asked about the costs of the Green New Deal, which is supported by New York Rep. Alexandria Ocasio-Cortez and other progressives and aims to implement a range of big-government programs while pursuing a level of "net-zero greenhouse gas emissions" — essentially, a total economic transformation toward clean energy that, among other points, includes building upgrades across the country.
The Wall Street Journal recently reported it cost nearly $2,000 per apartment for the New York City Housing Authority to switch to LED lighting, which lasts longer and consumes less energy than incandescent bulbs. Asked about that report, Booker said it's possible to "revive your economy, and create a bold green future," citing his experience as mayor of Newark, N.J.
"We environmentally retrofitted our buildings. Saves taxpayers money, created jobs for our community and lowered our carbon footprint," Booker said.
He added, "This lie that's being put out – that somehow being green and responsible with the environment means you have to hurt the economy – a lie."
WHAT IS THE GREEN NEW DEAL? A LOOK AT THE ECONOMIC AND CLIMATE CONCEPT PUSHED BY PROGRESSIVES
The Green New Deal is a sweeping proposal designed to tackle income inequality and climate change at the same time. It's modeled after President Franklin D. Roosevelt's New Deal package of public works programs and projects created to help the economy during the Great Depression — but in many ways goes much further.
The rollout itself was muddled by the release of Ocasio-Cortez documents that, among other things, promised economic security even for those "unwilling" to work.
The plan itself aims to eliminate greenhouse gas emissions from manufacturing and agriculture and dramatically expand energy sources to meet 100 percent of power demand through renewable sources. The proposal also calls for a job-guarantee program and universal health care, among other things.
Republican critics have vehemently pushed back against the proposal, pointing in part to the price tag – estimated to be about $7 trillion. Republicans have also decried the job guarantee idea, calling it a "deeply flawed policy" that would be detrimental to small businesses.
Fox News' Kaitlyn Schallhorn contributed to this report.
Source: Fox News Politics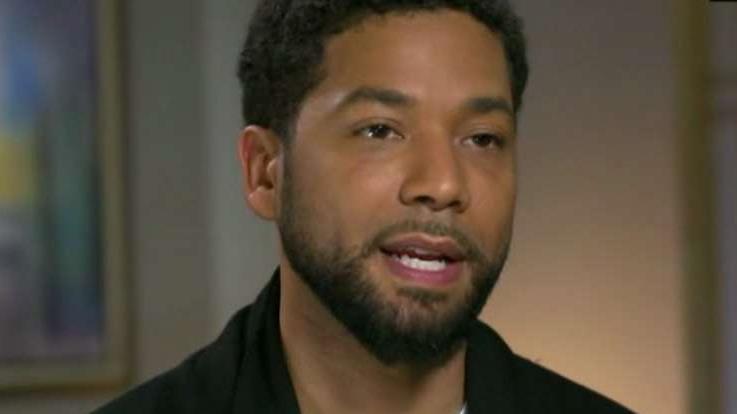 Democratic politicians are backtracking from their initial comments about what was originally described as a hate crime against "Empire" actor Jussie Smollett, after a Chicago police spokesperson said over the weekend the "trajectory of the investigation" shifted and they no longer consider Smollett a victim in the case.
JUSSIE SMOLLETT'S LAWYERS DENY HE PLANNED ATTACK AFTER CHICAGO POLICE CLAIM HE'S NO LONGER CONSIDERED A VICTIM IN CASE
When the incident was first reported last month, Democratic presidential candidate Cory Booker called it "an attempted modern-day lynching." But on Sunday, Booker told reporters he is now withholding comment on the case "until all the information actually comes out from on-the-record sources."
House Speaker Nancy Pelosi on Jan. 29 tweeted that the "racist, homophobic attack" against Smollett is "an affront to our humanity." But over the weekend, Pelosi's tweet had been deleted.
Smollett, who is black and openly gay, has claimed he was attacked by two masked men early on Jan. 29 as he walked to his Chicago apartment from a Subway restaurant. Smollett alleged the men shouted racial and anti-gay slurs at him.
Last week, Chicago police questioned two Nigerian brothers in the reported attack but released them Friday without charges. Police spokesman Anthony Guglielmi said the pair had given officers information that had "shifted the trajectory of the investigation." Local reports have cited sources saying the attack was a hoax, though the Chicago Police Department has not confirmed that.
CORY BOOKER 'WITHHOLDING' JUDGMENT ON SMOLLETT CASE AFTER CALLING IT 'ATTEMPTED MODERN-DAY LYNCHING'
"While we are not in a position to confirm, deny or comment on the validity of what's been unofficially released, there are some developments in this investigation and detectives have some follow-ups to complete which include speaking to the individual who reported the incident, " Guglielmi said Sunday.
Smollett received an outpouring of support from politicians and celebs when he first went public about the alleged attack in January. Smollett has claimed at least one of the attackers said to him, "this is MAGA country," in reference to President Trump's campaign slogan.
While some lawmakers are now backtracking, others have stayed mum as the narrative rapidly shifts. Donald Trump Jr., the president's son, called out Democrats on Twitter who were outspoken initially about the case, but haven't said anything since the new developments.
"I'm wondering if @KamalaHarris still wants #JusticeForJussie? Will she be as vocal about it now or has she moved on?" Trump Jr. tweeted.
Last month, Sen. Harris, like Booker, referred to the incident as "an attempted modern day lynching."
"No one should have to fear for their life because of their sexuality or color of their skin," the 2020 presidential candidate said. "We must confront this hate."
ROBIN ROBERTS SAYS COPS FELT JUSSIE SMOLLETT WAS CREDIBLE AT TIME OF INTERVIEW
Others, like New York Democratic Rep. Alexandria Ocasio-Cortez, said last month, "There is no such thing as 'racially charged.' This attack was not 'possibly' homophobic. It was a racist and homophobic attack. If you don't like what is happening to our country, then work to change it. It is no one's job to water down or sugar-coat the rise of hate crimes."
John Dickerson, the co-anchor of CBS This Morning, responded to Ocasio-Cortez on Sunday and asked, "Is there an update on this?"
Meanwhile, Smollett's attorneys, Todd S. Pugh and Victor P. Henderson, are vehemently denying that the attack was a hoax.
"As a victim of a hate crime who has cooperated with the police investigation, Jussie Smollett is angered and devastated by recent reports that the perpetrators are individuals he is familiar with," the lawyers said in a weekend statement. "He has now been further victimized by claims attributed to these alleged perpetrators that Jussie played a role in his own attack. Nothing is further from the truth and anyone claiming otherwise is lying."
Fox News' Mike Tobin and Samuel Chamberlain contributed to this report.
Source: Fox News Politics
Liberal activists planning day of protests against Trump's national emergency declaration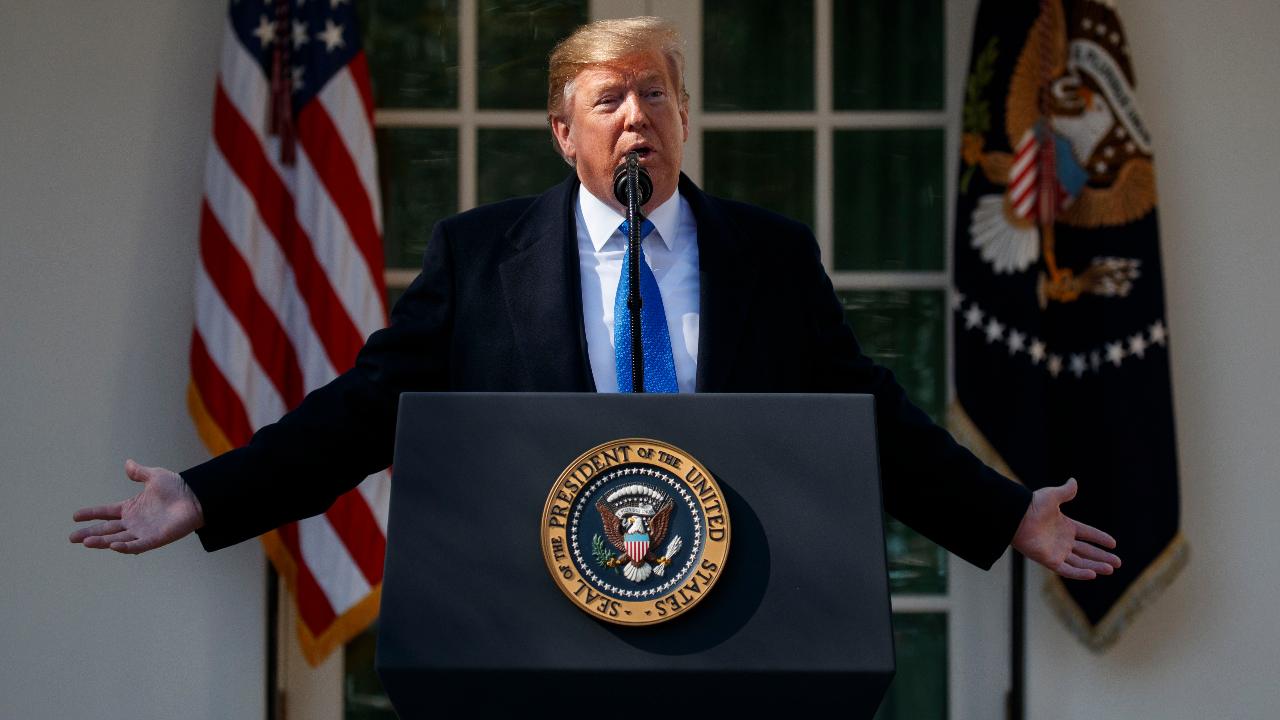 Liberal activists are planning nationwide protests on Monday against President Trump's national emergency declaration on the southern border, embracing the hashtag #FakeNationalEmergency.
The demonstrations are being organized for Presidents Day, the federal holiday on Monday that some workers have off. Many have been scheduled to take place at noon.
TRUMP DECLARES EMERGENCY ON BORDER, EYES $8B FOR WALL
"We're mobilizing rapid-response events on Presidents Day—Monday, 2/18—against Trump's fake crisis and racist deportation force and to stand with immigrant, Muslim, and Black and brown communities to stop Trump's dangerous and illegal power grab," the liberal MoveOn.org posted on its website.
Some local protests have been listed on the website Rallylist.com.
President Trump said Friday he is declaring a national emergency on the southern border, tapping into executive powers in a bid to divert billions toward construction of his long-promised wall.
"We're going to confront the national security crisis on our southern border … one way or the other, we have to do it," Trump said in the Rose Garden.
TRUMP'S BORDER WALL JOINS 31 OTHER NATIONAL EMERGENCIES CURRENTLY IN EFFECT
The move is expected to face a swift and forceful legal challenge that could stall the attempt in the courts for the near future. But the declaration and other money-moving plans allow Trump to continue to fight for border wall construction while also averting another partial government shutdown — which would have been triggered at midnight on Friday absent the new funding package.
Trump, in the Rose Garden, declared once again that "walls work" as he confirmed the emergency declaration would accompany the spending legislation.
"We're talking about an invasion of our country," Trump said.
And in an almost-casual tone, the president predicted a legal fight that will wind up before the Supreme Court.
"We will have a national emergency, and we will then be sued," Trump said, adding that the federal appeals courts could well rule against his administration. "Then we'll end up in the Supreme Court, and hopefully we'll get a fair shake, and we'll win at the Supreme Court — just like the [travel] ban."
A senior administration official told Fox News that the White House plans to move $8 billion in currently appropriated or available funds toward construction of the wall. Of that, $3 billion could be diverted with help from the emergency declaration.
Fox News' Brooke Singman contributed to this report.
Source: Fox News Politics
Tear down that border wall: Is Beto's battlecry the new Dem litmus test for 2020?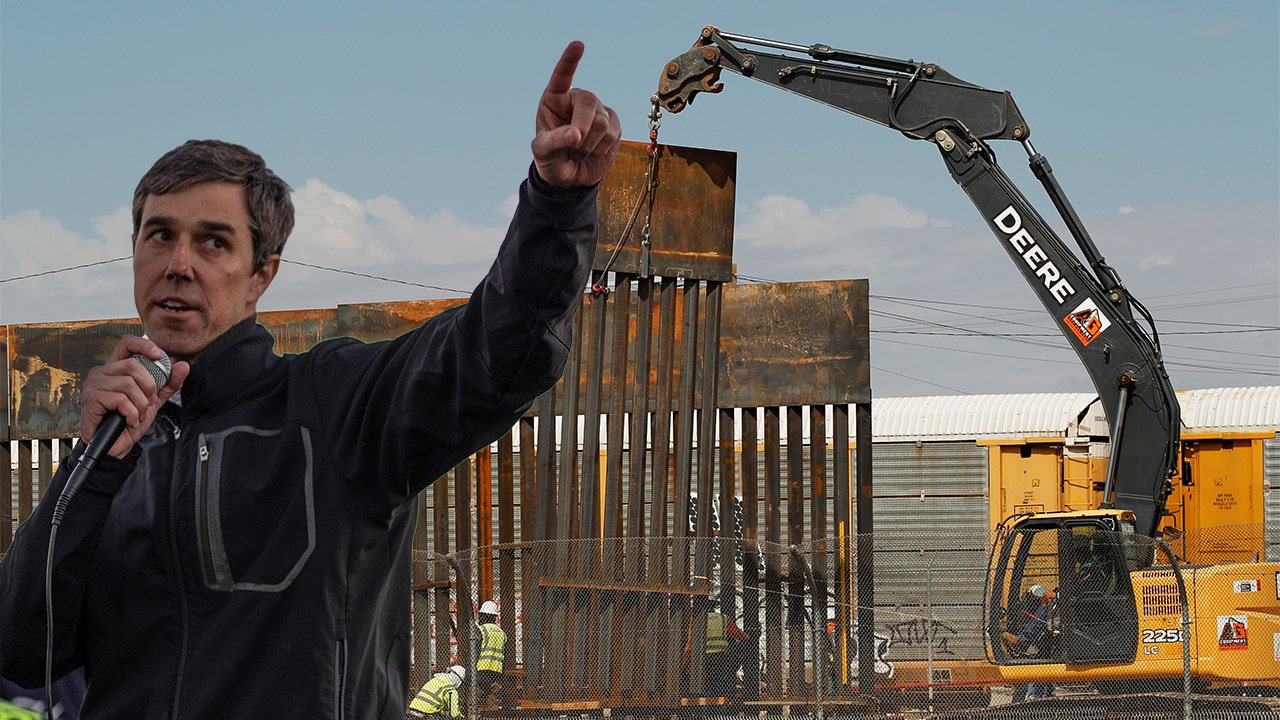 Beto O'Rourke may have inadvertently got the ball rolling this week on an emerging litmus test for Democrats eyeing the White House in 2020 when he said he "absolutely" supports tearing down the existing barriers along the southern border with Mexico.
Since then, the other Democrats eyeing the 2020 Democratic nomination are facing calls to say whether they agree. And some are now expressing an openness to it, as they work to appeal to a liberal base that argues the wall is immoral.
"Curious to know if @KamalaHarris, @CoryBooker, @ewarren, @JulianCastro, @gillibrandny and @amyklobuchar agree with @BetoORourke that we should tear down the wall that already exists at the border?" tweeted Brad Parscale, Trump's re-election campaign manager.
O'Rourke, the former Texas Democratic congressman and potential presidential candidate, called for the destruction of the El Paso wall after the White House said President Trump would declare a national state of emergency to fund the remainder of his border wall project.
During an interview in his hometown on Thursday, MSNBC host Chris Hayes asked O'Rourke: "If you could, would you take the wall down here — knock it down?"
BETO SAYS HE 'ABSOLUTELY' SUPPORTS DESTROYING EXISTING WALLS ON SOUTHERN BORDER
"Yes, absolutely," answered O'Rourke, who is widely thought to be a potential candidate in 2020 but has not formally announced his intention to run. "I'd take the wall down."
And on Friday, at least one Democrat in the 2020 field signaled they are open to it.
GILLIBRAND ON CALL TO TEAR DOWN BORDER WALL: 'IF IT MAKES SENSE, I COULD SUPPORT IT'
"I could look at it and see which part he means and why and if it makes sense I could support it," New York Sen. Kirsten Gillibrand told Fox News in New Hampshire on Friday.
Meanwhile, Republicans expressed disbelief over O'Rourke's comments, while signaling they believe they could use the issue to paint Democrats as extreme and pro-open borders.
"Correct me if I am wrong, but did Beto say he would tear down existing border fencing and walls?" tweeted Texas Sen. John Cornyn, who is up for re-election in 2020. Some Democrats have encouraged O'Rourke to challenge Cornyn if he doesn't run for president.
"Give Beto O'Rourke points for honesty: he admits that he wants to tear down existing border walls & have totally open borders," said Arkansas Republican Sen. Tom Cotton. "At least he'll say what most Democrat politicians believe."
RNC chairwoman Ronna McDaniel used O'Rourke's comments to say it's proof Democrats are "the party of open borders."
While O'Rourke was the first likely 2020 presidential candidate to call for tearing down walls, other lesser-known Democrats in recent weeks have suggested they support the idea.
In an interview in January for example, Democratic Texas Rep. Veronica Escobar told CNN that "we know walls don't work, that they don't stop drugs, that they don't stop migration." Escobar also suggested she was open to destroying existing walls, remarking that they are "really ugly" and "monuments to division."
HOYER SAYS BORDER WALLS 'OBVIOUSLY' WORK, REJECTS PELOSI'S SUGGESTION THAT BARRIER IS 'IMMORALITY'
But not all Democrats have embraced the idea: House Majority Leader Steny Hoyer, D-Md., said during an interview on Fox News' "Special Report with Bret Baier" last month that border walls "obviously" work in some areas, and he rejected suggestions that barriers should be removed where they already exist.
Fox News' Gregg Re contributed to this report.
Source: Fox News Politics
Mueller claims to have evidence Roger Stone communicated with WikiLeaks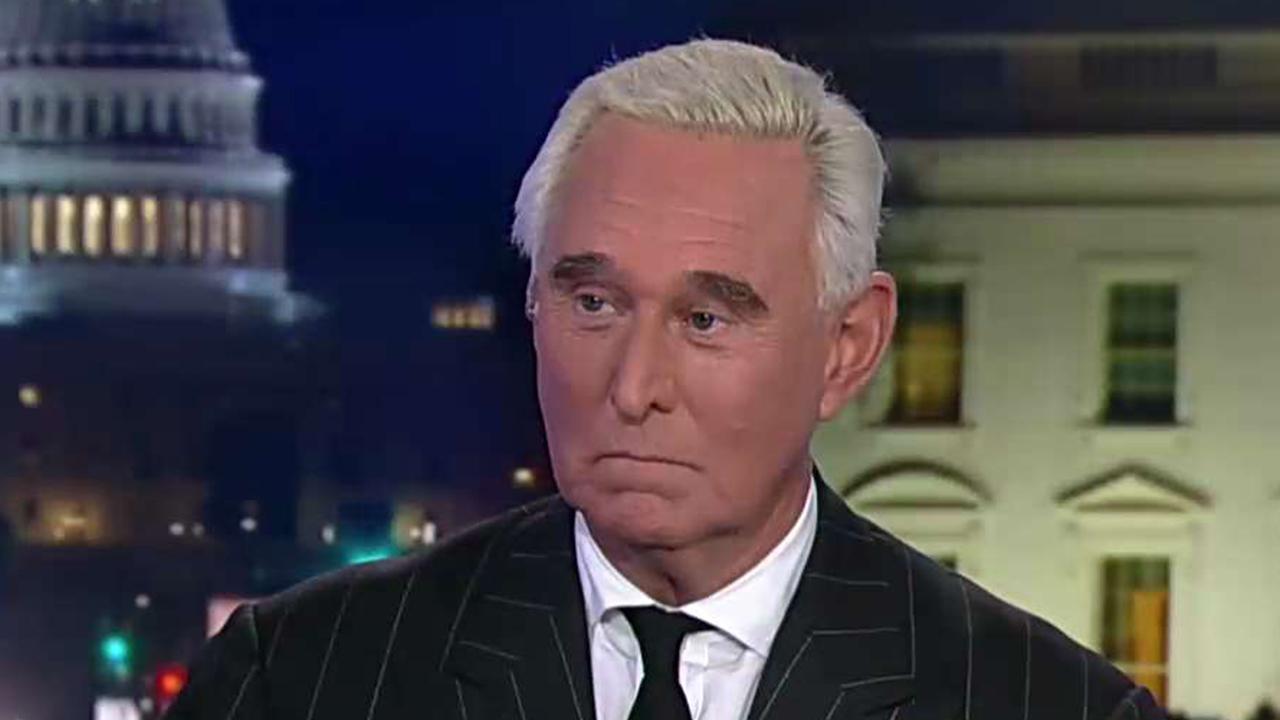 Special Counsel Robert Mueller on Friday claimed in a new court filing that prosecutors have evidence that former Trump adviser Roger Stone communicated with WikiLeaks, the organization that released hacked Democratic emails during the 2016 campaign.
Stone – who was indicted last month on charges of obstruction, making false statements and witness tampering – denied to Fox News that evidence of such communications exists.
JUDGE IMPOSES PARTIAL GAG ORDER IN ROGER STONE CASE
"There is no such evidence," Stone said in a text message.
In a Friday motion, Mueller's team said that "search warrants were executed on accounts that contained Stone's communications" with an organization widely believed to be WikiLeaks.
Last month's indictment does not charge Stone with conspiring with WikiLeaks, the anti-secrecy website that published the emails, or with the Russian officers Mueller says hacked them. Instead, it accuses him of witness tampering, obstruction and false statements about his interactions related to WikiLeaks' release.
The indictment says Stone spoke to Trump campaign officials during the summer of 2016 about WikiLeaks and information the organization had that might be damaging to the Clinton campaign. It also says Stone was contacted by "senior Trump campaign officials" to inquire about future WikiLeaks releases of hacked Democratic emails.
ROGER STONE VOWS TO FIGHT CHARGES IN MUELLER PROBE, CALLS INDICTMENT 'POLITICALLY MOTIVATED'
Stone has pleaded not guilty to the charges.
Earlier Friday, Judge Amy Berman Jackson of the federal court for the District of Columbia instituted a partial gag order, ordering that Stone "refrain from making statements to the media or in public settings that pose a substantial likelihood of material prejudice to this case."
Jackson further ordered that any participants in the case, including witnesses and counsel, "refrain" from making any statements to the media or public when they are near the courthouse that could "influence any juror, potential juror, judge, witness or court officer or interfere with the administration of justice."
Fox News' Eben Brown, Brooke Singman and Bill Mears and The Associated Press contributed to this report.
Source: Fox News Politics
Kentucky House passes bill banning abortions if Roe v. Wade overturned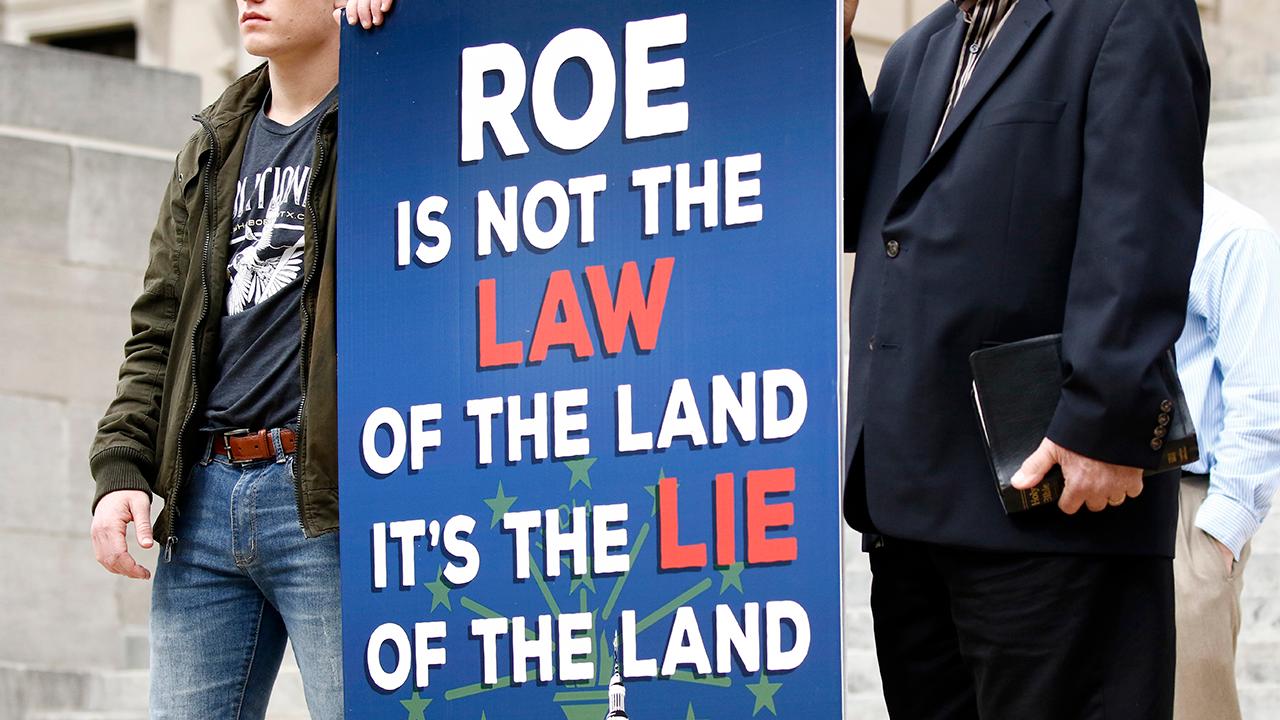 Lawmakers in Kentucky's House of Representatives on Friday overwhelmingly passed a bill that would ban most abortions in the state – if the U.S. Supreme Court overturns Roe v. Wade.
The bill passed 69-20 in the House, and now heads to the state's Senate. It would ban abortions except for cases when it is necessary to save the life of the mother.
The legislation would take effect if Roe v. Wade, the landmark 1973 decision that legalized abortion across the country, is reversed and states have the authority to outlaw abortion.
Lawmakers staked out their views on abortion during the emotionally charged debate.
"Not one of us, man or woman, has the moral authority to take the life of an unborn," said Republican Rep. James Tipton. "There is no other medical procedure that I know of that the goal is to intentionally take the life of an unborn child."
OUTRAGE AS VIDEO SHOWS VIRGINIA ABORTION BILL SPONSOR SAYING PLAN WOULD ALLOW TERMINATION UP UNTIL BIRTH
Democratic Rep. Mary Lou Marzian said if the bill were to take effect, it would amount to government intrusion into the private medical decisions of women.
"It's none of our business," she said. "If you want to go have a colonoscopy, should we get ourselves involved in that? If you want to take Viagra, should we get ourselves involved in that?"
Kentucky is among states enacting strict abortion laws in hopes of triggering a legal challenge to the high court. Louisiana, Mississippi, North Dakota and South Dakota have similar laws on the books triggering abortion bans if the Roe v. Wade decision is struck down.
Anti-abortion legislators and activists around the country believe President Trump has strengthened the push to topple the Roe v. Wade ruling with his appointments of conservatives Neil Gorsuch and Brett Kavanaugh to the Supreme Court.
Meanwhile, liberal states, including New Mexico, Massachusetts, Rhode Island, Virginia, and Washington, have been making efforts to pass bills that loosen restrictions on abortion.
VIRGINIA GOV. NORTHAM FACES BACKLASH FOR COMMENTS ON 3RD-TRIMESTER ABORTION BILL
Controversy has erupted in Virginia, where the Democratic sponsor of a Virginia abortion proposal acknowledged it could allow women to terminate a pregnancy up until the moment before birth, for reasons including mental health.
Democratic Virginia Gov. Ralph Northam came under after he waded into the fight, with critics saying Northam indicated a child could be killed after birth.
The Associated Press contributed to this report.
Source: Fox News Politics
Sarah Sanders says she 'voluntarily' agreed to Mueller interview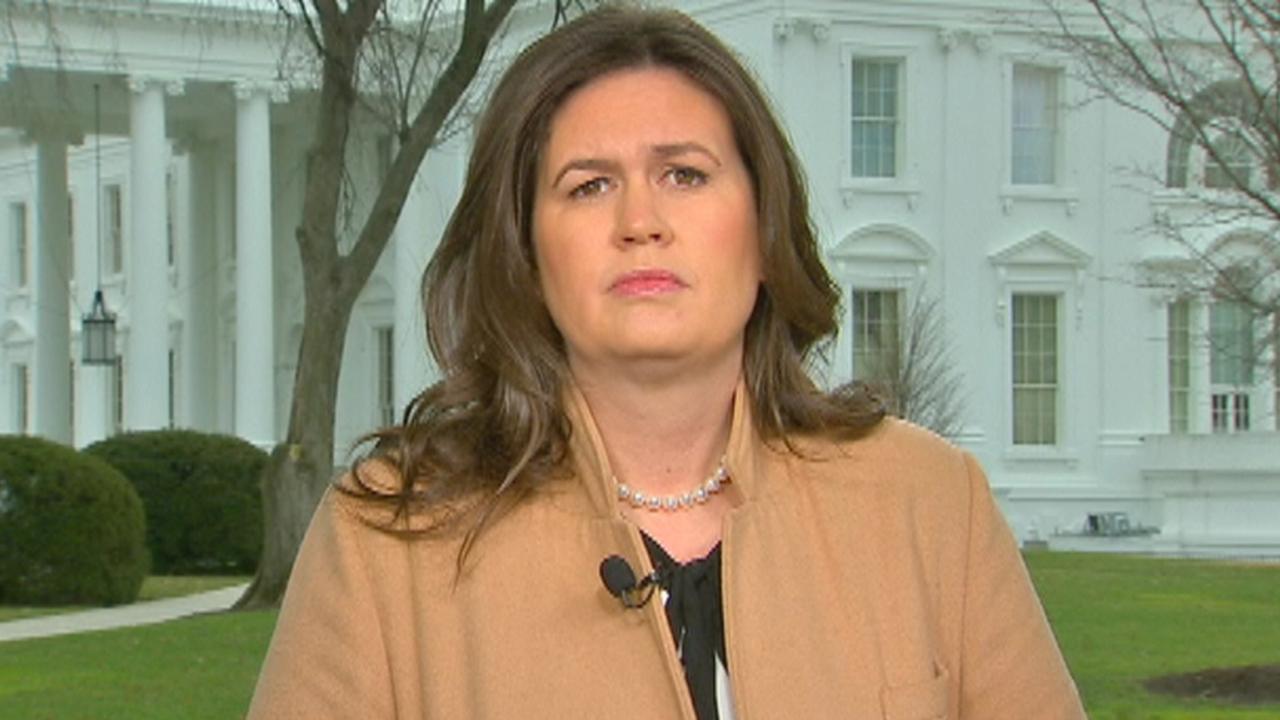 White House Press Secretary Sarah Sanders acknowledged Friday she was interviewed by Special Counsel Robert Mueller's team as part of their probe into whether anyone on the Trump campaign coordinated with Russia during the 2016 presidential campaign.
"The president urged me, like he has everyone in the administration, to fully cooperate with the special counsel. I was happy to voluntarily sit down with them," Sanders said in a statement.
MUELLER'S RUSSIA INVESTIGATION: WHAT TO KNOW
She did not elaborate on when the interview took place, or what was discussed. But others involved in the campaign who later took White House jobs have been interviewed by Mueller's team, including former chief of staff Reince Priebus and former press secretary Sean Spicer.
Sanders worked on the presidential campaign of her father, Mike Huckabee, before joining Trump's campaign in 2016. She later took a press job in the White House, before being promoted to White House press secretary.
WILLIAM BARR SWORN IN AS ATTORNEY GENERAL, FOLLOWING SENATE CONFIRMATION
CNN first reported Friday that Sanders had been interviewed by Mueller's team.
Mueller's investigation, which was initially ordered to look into the 2016 election, has gone on for more than a year and half. It has expanded to probe financial crimes of Trump associates before the election, conversations Trump's national security adviser had with the Russians during the transition, and whether Trump obstructed justice with his comments and actions related to the probe.
Sanders, as Trump's top spokesperson, has repeatedly denied any collusion between the Trump campaign and the Russians.
"It's very clear that Russia meddled in the election, it's also very clear that it didn't have an impact on the election, and it's also very clear that the Trump campaign didn't collude with the Russians in any ways for this process to take place," Sanders said during a briefing last year.
Several weeks ago, then-Acting Attorney General Matthew Whitaker said during congressional testimony that he's been "fully briefed, and I look forward to Mueller delivering the final report. Right now, the investigation is, I think, close to being completed."
Fox News' John Roberts and Gregg Re contributed to this report.
Source: Fox News Politics
"So help you GOD" will remain in the Oath although the Democrats tried to remove it… The House Natural Resources Committee on Wednesday voted to keep "so help you God" in the oath administered to witnesses testifying before the panel, a day after Republicans decried an apparent effort from Democrats to remove the phrase. "It […]
Now Virginia might sign an Abortion Bill copycatting New York allowing termination of babies right up to birth, what you to think about this? The abortion debate erupted anew this week after a video surfaced showing the Democratic sponsor of a Virginia abortion proposal acknowledging it could allow women to terminate a pregnancy up until the moment before birth, for reasons […]
---