Milo Yiannopoulos has a LOT of "Super Fans" but no one else Grabs Life by the Grapefruit and Squeezes quite as good as Michah: one such fan.
On a recent dare, Milo informed Michah he would let him regain his Admin rights (if he completed a dare) back to Milo's "Fag Chat" the room that up until now has been a pay only chat room, with changing names.
For example, Milo has mocked a church, mocked Antifa, mocked a school, and currently, Milo sits as "Judge Milo" the current link at the time of this article is: https://t.me/joinchat/LHoLt1A8PXVPq2ml9_qNyA remember in his court it is NOT a Democracy.
Recently Milo has complained a lot about the lack of book sales, etc, etc and the worries of putting food on the table for him and his wonderful husband as pictured below (not really)
I will be honest I myself have been caught up in the drama of the world of Milo, I even paid $13 to be "unsilenced," yes Milo has found a way to make money off this chat, fees levied on those that disobey. Yes, Milo will "silence" you, the same Milo, who is the master of being banned from everything which I find kind of ironic to be "silenced" by one that complains how everyone silences him. If I might add Milo has even set up a system where people can pay to have others banned and then reinstated, and that is not even all! Just ask anyone in chat about the "rules" especially #ShariaTuesdays where women are NOT allowed to talk. It can be frustrating for some, but in Milo's Kingdom, he likes to keep it fresh.
I have even allowed myself to get very emotional about his rejection of my work, and my silencing. So, I have put that energy into a weekly show covering some of the highs and very very very lows of Milo's chat.
This week started out normal as there was a Mock Funeral for Michah, but within 12 hours Michah was made whole again in at least zombie form… which led towards an even fruitier and more citrus path for dear Michah the budding fruitiphile. (I am sure there is a much better not made up name)
For you see in 2020 the land of complaining about Gays and Drag queens (just ask Lady Maga) being allowed in the "Conservative" movement because they are something other than "traditional conservative" is a LARGE issue for many who consider themselves as "conservatives"
This is something I personally believe that is holding back the Republicans and our #GaysForTrump movement, in general, the embracing of diversity in the party which may just include getting OK with embracing identity politics. If only to prove to others that they too do not have to be trapped on the left and can #GoRight breaking the "Traditional mold" and ensuring future victories for Life, Liberty, and the Pursuit of Happiness.
Though, just as bad as Trannys in Libraries we have to warn you that there is such a thing as extremism. This we all must worry about and guard against.
So my question, does Sex With Fruit belong in Conservative America?
Who knows, I know this for sure.. people might call me a fruit because I am Gay but I sure as hell am not having sex with one!
To each his own Michah for I hope you do get that piece of American Pie!
Also, Remember, Milo is NOT OK! All Right?!
Below is this week's 1st ever episode of Milo is Not OK! All Right?! Enjoy and Subscribe https://YouTube.com/c/PeterBoykin
Milo Is Not OK! All Right?! Episode 1
Fighting the Culture War One Grapefruit at a Time
Michah Screws a Grapefruit!
I told you Milo was NOT All Right…
Warning Contents are UNCENSORED
Strong Language and some weird situations… not for all ages
#MiloIsNotOk #MiloIsNotAllRight #CultureWar
Fighting the Culture War One Grapefruit at a Time – Milo Is Not OK (All Right) Episode 1
The Opinions Expressed in These News Stories, do not always represent the views of the Full Staff, and the Movements and Charities We Endorse.
We Fully Believe that Together All Parties and People Can Make America (and the World) Great Always (For Everyone)
Follow @PeterBoykin on
TeleGram: T.ME/RealPeterBoykin
Facebook: Facebook.com/PeterRobertBoykin
YouTube: YouTube.com/c/PeterBoykin
Instagram: instagram.com/peterboykin/
Reddit: reddit.com/user/peterboykin
Visit Our Network of News Pages:
Join #TheMagaNetwork
Support These Great Charities and Movements
GoRight.US #GoRight
Related
Tucker Carlson recently pointed out the hypocrisy surrounding mainstream media's coverage of the Justin Trudeau blackface scandal by comparing the way CNN's Don Lemon handled the matter.
On Tucker Carlson Tonight on Fox News Tucker spent no time singling out CNN's Don Lemon in a clip where it showed how the liberal Lemon host covered Trudeau's apology by only redirecting the issue as a way to attack President Trump, Tucker even brought up an older clip from Oct 2018 of Don Lemon talking about the Kelly controversy.
"Megyn is 47 years old, she's our age. There has never been a time in her 47 years that blackface has been acceptable… I wonder how much diversity she has on her staff. I don't know, I'm not there but I would imagine there is not a lot," "This is what people of the larger culture don't understand about racism and about privilege."

– Don Lemon
Now compare this to what Lemon said about the Prime Minister…
"He says he didn't think it was racist at the time, now he knows better,"

"Think about it however you want to think about it. When someone apologizes, wow, we don't often see that here. Especially a world leader who's saying, 'I should have known better and I'm sorry.'"

– Don Lemon
Double Standards Much?
Recently unless you have had your internet and TV turned off you would have seen that it was revealed that the Canadian prime minister was caught up in his own "blackface" scandal of which he attempted to apologize during a news conference in Winnipeg, Manitoba. Though Tucker Carlson (and nor did most of the right on the internet) buy this apology. As its more under the impression that Trudeau didn't actually take responsibility but rather "transferred it" by blaming privilege.
"He's moving responsibility for what he did from himself to the rest of us… it's not a confession, it's a justification and the only people dumb enough to buy it are the news media, of course. The dumbest people in the world,"

"Or could it be that because Justin Trudeau is a powerful leader on the left, he gets a pass no matter what he does? I think you know the answer,"

"What a difference a year makes… Megyn Kelly never wore blackface, she wouldn't do that. She's not Justin Trudeau,"

"She just made the mistake of not seeming quite offended enough in a TV segment about certain Halloween costumes."

– Tucker Carlson
Related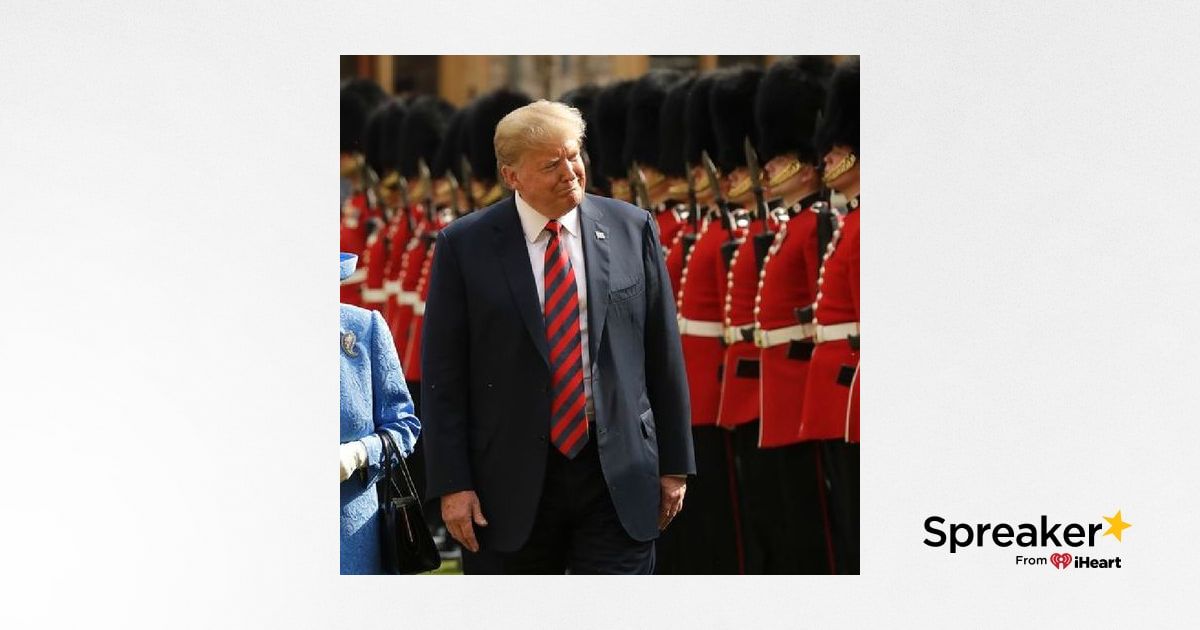 Hail To American Royalty! Trump Visits English Royalty, How Do you Think It Will Go?
President Trump heads to Europe: Pomp, circumstance, turmoil, 'fake news' and remembering D-Day
President Trump is in Europe for a weeklong visit that is both ceremonial and official: It will include a state visit and an audience an lavish dinner with Queen Elizabeth II and the royal family in London, D-Day commemoration ceremonies on both sides of the English Channel and his first presidential … See More visit to Ireland. His visit to the United Kingdom comes days before British Prime Minister Theresa May will step down as head of the Conservative Party on Friday for failing to secure a Brexit deal. Trump has praised her her rival, prime ministerial hopeful Boris Johnson, saying that he thinks he would do "a very good job." Trump is not expected to meet with London Mayor Sadiq Khan, who called him a "global threat." Trump has called Khan a "twin" of New York Mayor Bill de Blasio, only "shorter."
Trump stirred controversy when, in an interview with the Sun, he referred to Meghan Markle, the American-born Duchess of Sussex, as "nasty" for her past criticism of him. (Markle, who just gave birth last month, was not expected to meet with Trump this week.) Trump pushed back Sunday against the report, tweeting: "I never called Meghan Markle "nasty." Made up by the Fake News Media, and they got caught cold!" The Sun posted the audio of the interview on its website.
China and Mexico ready to talk
China and Mexico, the two largest sources of U.S. imports who face the possibility of new tariffs in the coming weeks, are reportedly willingness to negotiate with Washington over escalating trade issues. On Sunday, Beijing reportedly released a governmentpolicy paper on trade issues, accusing the Trumpadministration of scuttling the negotiations, which stalled in May.
While saying Trump's "American First" policy is hurting the global economy, China also said it is willing to negotiate. Mexico, meanwhile, rushed a delegation to the U.S. to discuss immigration issues, following the Trump administration's threat last week to impose tariffs on all Mexican goods entering the U.S. if the Mexican government fails combat the migrant crisis at the border.
Gillibrand town hall gets heated
Things got heated at a Fox News town hall in Iowa Sunday when Sen. Kirsten Gillibrand, D-N.Y. used the platform to blame the network for allowing discussions of infanticide in debates about abortion and women's reproductive rights. When asked by a retired pediatric nurse named Susan about her stance on late-term abortions, Gillibrand pivoted to an attack on Fox News. Gillibrand accused Fox of fueling what she called the infanticide "red herring" and "false narrative" by devoting 6.5 hours of coverage to the debate, including comments from guests on the network. Town hall moderator Chris Wallace cut her off.
"Senator, I just want to say, we've brought you here for an hour," Wallace said. "We've treated you very fairly. I understand that maybe to make your credentials with the Democrats who are not appearing on Fox News you want to attack us. I'm not sure it'sfrankly very polite when we've invited you to be here."
Investigators still seeking motive in Virginia Beach shooting
Virginia Beach police are still looking for a motive behind the workplace shooting that left 12 people dead last Friday. TheVirginia Beach shooter, identified as 40-year-old DeWayne Craddock, had submitted his resignation earlier that morning, officials said Sunday. Craddock, was an engineer with the city's public utilities department for 15 years. In a news conference Sunday morning, Virginia Beach City Manager Dave Hansen described the man's work performance as "satisfactory" with no ongoing issues of discipline. Hansen also reiterated that Craddock was not fired or in the process of being fired leading up to the shooting
Love triangle in Connecticut?
The estranged husband of a missing Connecticut mother is being held on $500,000 bond at the Bridgeport Correctional Center and is expected to be arraigned on Monday at 10 a.m. in Norwalk Superior Court. His girlfriend is also being held on $500,000 bond. Jennifer Dulos, the Connecticut mother of five who has been missing for more than a week. Fotis Dulos was arrested and charged with hindering prosecution and tampering with evidence, New Canaan police said Sunday. His girlfriend, Michelle Troconis, 44, was also arrested and booked on similar charges over the weekend.
TODAY'S MUST-READS
Senior North Korea official thought imprisoned by Kim Jong Un pictured at concert with dictator.
AOC plays 2020 Democratic contender gatekeeper.
Roger Stone post calls for former CIA Director John Brennan to be 'hung for treason': report.
MINDING YOUR BUSINESS
In the US-China trade war, how tech is saving farmers money.
Trade dispute, fuel costs will hit global airline profits, outlook slashed.
'This is Us' star Chrissy Metz reveals what she learned while working at McDonald's,
Follow @PeterBoykin on Social Media
Twitter: Banned
Facebook: https://www.facebook.com/Gays4Trump
Instagram: https://www.instagram.com/peterboykin/
Youtube: https://www.youtube.com/c/PeterBoykin
Reddit: https://www.reddit.com/user/peterboykin
Telegram: https://t.me/PeterBoykin
https://t.me/RealPeterBoykin
Parler: https://parler.com/profile/peterboykin/posts
PolitiChatter: https://politichatter.com/PeterBoykin
Gab: https://gab.com/peterboykin
Discord: https://discordapp.com/invite/pyuPqU9
Periscope: Banned
Support Peter Boykin's Activism by Donating
Patreon: https://www.patreon.com/peterboykin
PayPal: https://www.paypal.me/magafirstnews
Cash App: https://cash.me/app/CJBHWPS
Cash ID: $peterboykin1
Listen to #MagaOneRadio
Join the #MagaNetwork
Read the Latest #MagaFirstNews
https://magafirstnews.com/
https://magafirstnews.com/
https://magaone.com/
https://us1anews.com/
Support Donald Trump
https://votefordjtrump.com/
http://trumploveswinning.com/
https://marchfortrump.net/
https://gaysfortrump.org/
Join Our Groups on Facebook:
MarchForTrump
https://www.facebook.com/groups/MarchForTrump2020/
https://www.facebook.com/groups/MarchForTrump/
MagaOneRadio
https://www.facebook.com/groups/MAGAOneRadio/
https://www.facebook.com/groups/MagaOneRadioNet/
https://www.facebook.com/groups/MAGARadio/
https://www.facebook.com/groups/MagaFirstRadio/
https://www.facebook.com/groups/MAGA1Radio/
https://www.facebook.com/groups/MagaFirst/
TheMagaNetwork
https://www.facebook.com/groups/theMagaNetwork/
GaysForTrump
https://www.facebook.com/groups/gaysfortrump/
https://www.facebook.com/groups/TheGayRight/
https://www.facebook.com/groups/LGBTexit/
https://www.facebook.com/groups/gaysfortrumporg/
https://www.facebook.com/groups/DeplorableGays/
https://www.facebook.com/groups/GaysForTrumpParty/
Americans With Trump
https://www.facebook.com/groups/AmericansWithTrump/
North Carolina MAGA Network
https://www.facebook.com/groups/northcarolinamaganetwork/
NC Trump Club
https://www.facebook.com/groups/NCTRUMPCLUB/
Exit Extremism
https://www.facebook.com/groups/EXITEXTREMISM/
Vote For DJ Trump
https://www.facebook.com/groups/VoteForDJTrump/
Trump Loves Winning
https://www.facebook.com/groups/TrumpLovesWinning/
Straights For Trump
https://www.facebook.com/groups/StraightsForTrump/
US1ANews
https://www.facebook.com/groups/US1ANews/
https://www.facebook.com/groups/US1ANewsGroup/
MyNCGOP
https://www.facebook.com/groups/MyNCGOP/
Grab them by the P***Y
https://www.facebook.com/groups/GrabThemByTheP/
Join Our Pages on Facebook:
https://www.facebook.com/TheMAGANetwork/
https://www.facebook.com/MAGAFIRSTNEWS/
https://www.facebook.com/pg/MagaOneRadio-778327912537976/
https://www.facebook.com/North-Carolina-MAGA-Network-307617209916978/
https://www.facebook.com/GaysForTrumpOrg/
https://www.facebook.com/LGBTExit-2340621102644466/
https://www.facebook.com/Take-Back-Pride-American-Pride-Rally-386980035391880/
https://www.facebook.com/PeterBoykinMAGA/
https://www.facebook.com/MarchForTrumpUSA/
https://www.facebook.com/VoteForDJTrump/
https://www.facebook.com/US1ANews1/
https://www.facebook.com/MYNCGOP/
https://www.facebook.com/trumploveswinning/
Contact Email:
Peter.Boykin@TheMagaNetwork.com
PeterBoykin@Gmail.com
GaysForTrump@Gmail.com
MagaFirstNews@Gmail.com
Telephone Number:
1-202-854-1320
Demand Free Speech Reception: Trump Hotel July 3 w/@RogerStone
https://www.eventbrite.com/e/demand-free-speech-reception-trump-hotel-july-3-wroger-stone-tickets-62233759851
MagaGala.com
Everyone I hope to see you in DC in July – Here's your chance to mingle with Roger Stone and other VIPs (TBA) at Trump Hotel July 3 – Demand Free Speech Reception Fundraiser 9:30pm – 11:30pm 2 hours open bar and great food! Please share! #MAGA Tickets through Facebook & Eventbrite MagaGala.com email peter.boykin@themaganetwork.com for questions please share! magagala.com
Demand Free Speech Reception: Trump Hotel July 3 w/@RogerStone
June 15 – MarchForTrump.net Greensboro NC
July 3 – #DemandFreeSpeech Reception @TrumpDC Tickets MagaGala.com
July 6 #DemandFreeSpeech Rally (VIP party after) DemandFreeSpeech.org
Oct 4-6 TRUMPSTOCK Kingsman AZ
---