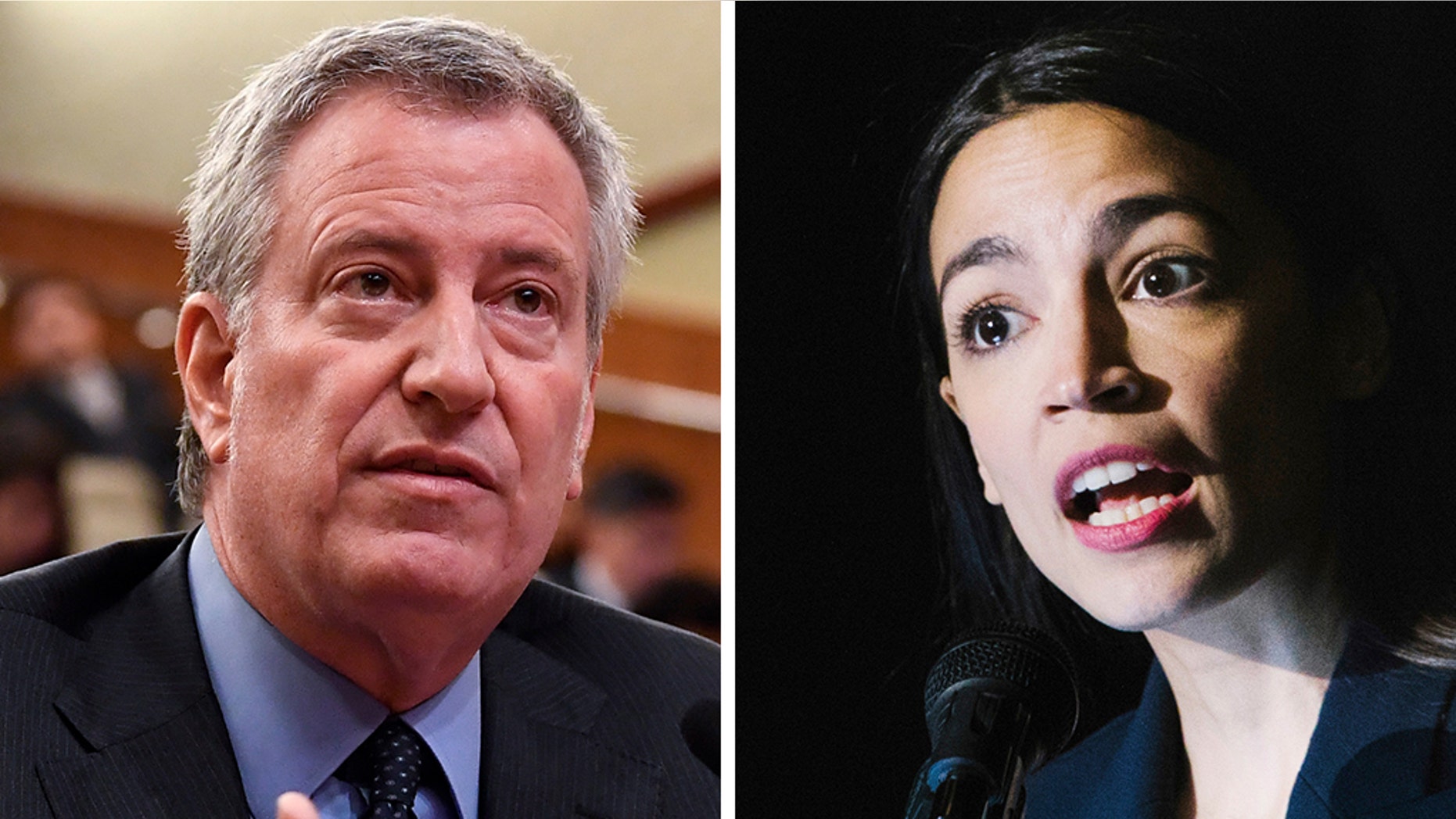 New York City Mayor Bill de Blasio suggested on Sunday that critics of the potential Amazon campus New York City — such as Democratic Rep. Alexandria Ocasio-Cortez — got the facts wrong over the money behind the tax breaks.
On Sunday morning, de Blasio responded in the affirmative when Chuck Todd of NBC News' "Meet the Press" asked if the tax breaks offered to Amazon weren't "money you had over here. And it was going over there."
The Democratic mayor said: "And that $3 billion that would go back in tax incentives was only after we were getting the jobs and getting the revenue."
"There's no money — right," de Blasio added.
Amazon had chosen the Long Island City neighborhood of Queens to build a $2.5 billion campus that could house 25,000 workers, in addition to new offices planned for northern Virginia.
"If we were willing to give away $3 billion for this deal, we could invest those $3 billion in our district ourselves, if we wanted to. We could hire out more teachers. We can fix our subways. We can put a lot of people to work for that money, if we wanted to," Ocasio-Cortez said last week after the technology giant announced on Thursday that it had dropped plans to build the new headquarters in America's largest city amid pressure from politicians and activists.
AMAZON BLASTS OCASIO-CORTEZ, SAYS 'WE DON'T WANT TO WORK IN THIS ENVIRONMENT IN THE LONG TERM'
The mayor also noted to Todd that the deal could have been a way for progressive leaders to show a balance on economic issues.
"I have no problem with my fellow progressives critiquing a deal or wanting more from Amazon — I wanted more from Amazon, too," de Blasio said. "The bottom line is, this was an example of an abuse of corporate power. They had an agreement with the people of New York City."
He added: "They said they wanted a partnership, but the minute there were criticisms, they walked away. What does that say to working people, that a company would leave them high and dry, simply because some people raised criticism?"
The city was eager to lure the company and its thousands of high-paying technology jobs, offering billions in tax incentives and lighting the Empire State Building in Amazon orange in November.
De Blasio and Democratic Gov. Andrew Cuomo said the $2.8 billion in tax breaks and subsidies they were offering Amazon would result in $27 billion in tax revenue. The governor and the mayor had argued that the project would spur economic growth that would pay for the $2.8 billion in state and city incentives many times over.
"We are disappointed to have reached this conclusion — we love New York," the online giant from Seattle said in a blog post announcing its withdrawal.
CLICK HERE TO GET THE FOX NEWS APP
Cuomo lashed out at fellow New York politicians over Amazon's change of heart, saying the project would have helped diversify the city's economy, cement its status as an emerging hub of technology and generate money for schools, housing and transit.
"A small group (of) politicians put their own narrow political interests above their community," he said.
Fox News' Andrew O'Reilly and The Associated Press contributed to this report.
Source: Fox News Politics
Pete King: NY Dems Must Stop Leftists After Amazon Loss
Rep. Pete King, R-N.Y., on Saturday urged Democratic leaders in New York to fight far-left members of the party who succeeded in forcing Amazon to pull out of a plan to bring thousands of jobs to Long Island City.
"Amazon's decision to leave Long Island City was a disaster for the entire New York-Long Island Metropolitan region and it was caused entirely by the radical progressive wing of the Democratic Party," King wrote in an email sent to constituents. "It is now absolutely necessary for New York Democrats to take a strong, unequivocal stand against these left wing progressives."
The Republican congressman noted he has long worked with members of both parties for the good of his state and the city, including Gov. Andrew Cuomo and Mayor Bill de Blasio, both of whom worked with Amazon to bring the headquarters to the city.
Freshman Rep. Alexandria Ocasio-Cortez was among the leaders of the movement to push Amazon out, citing, among other things, $3 billion in tax breaks offered by the state and local governments.
"Democratic political and governmental leaders must make it clear that radical progressives will not have a veto power over the economic future of New York and Long Island," King warned in his Saturday message. "Not only did Amazon's decision cost New York tens of thousands of jobs and as much $100 billion in revenues, it sent a signal to the rest of the country that New York is not open for business. And this came at a time when business people and billions of tax dollars were already leaving New York.
"The undoing of their deal was brought about by radical progressives and elected Democrats," King said. "The irresponsible policies and agendas of these radical Democrats can no longer be ignored or romanticized. Too much is at stake. Too many working people are being hurt and their futures put at risk. Democratic leaders must step and speak out."
Source: NewsMax Politics
Cuomo Helped Pass the Law on Abortion in New York and Now he Claims hes not a legislator of religion…. what about morals? Does he have any? Amid Catholic leaders' calls for excommunication, New York Governor Andrew Cuomo stands by the new state law that allows abortions to be performed by non-doctors up until […]
---